Newsletters
Feature Story - Learning Opportunities
Independence Achieved:
Bellwoods' New Sudbury Community Project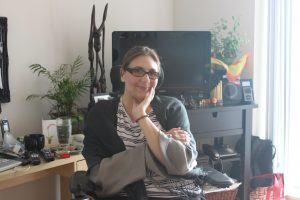 Paraskevi "Evi" Kouvelas is an articulate, cultured young woman with personal aspirations guiding her future. She is 35 years old and reported to carry a diagnosis of Acquired Brain Injury since 2005. According to Evi, she was admitted into the Emergency Department at Sunnybrook Health Sciences Centre in mid-July 2011 related to difficulty with co-ordination of her gait and was subsequently transferred to another unit in the hospital. Evi was then transferred to Providence Healthcare. Evi said she liked Providence, but was not fond of the structured schedules of meals, showers, etc. Evi was very relieved when she was accepted into Bellwoods' Community Connect (CC) Program in November 2011. She was looking forward to a more comfortable living environment that embraced her ability to self-direct her services and that was suited to her needs.
Evi enjoyed more freedom at Bellwoods' CC Program. She stated that it was the perfect way to transition into independent living. In Evi's own words, this is what she said about the CC Program- "All the staff there were extremely helpful and it had less of the institutionalized atmosphere compared to hospitals. I could eat whatever and whenever I wanted. My schedule was specifically set-up to meet my personal needs. The only foreseeable challenge was that I was registered into the six-month program."
Where was Evi going to go next? A timely opportunity arose and Evi was informed that there was an available apartment at Bellwoods' Sudbury Community Project.
Since moving to Sudbury in December 2011, Evi has reflected upon her transition – "I really like it. The schedule is still personalized even though the PSWs aren't on site 24/7. I enjoy more freedom by having my own apartment. It is in a lively neighbourhood, which I am now beginning to explore more. The building is new, the bedroom, bathroom and kitchen are modern. I even have the sun all afternoon, with a great view. What I really enjoy is the freedom of having my own place to decorate as I please, with the security of having staff that is helpful and available on a schedule that meets all my needs. Perhaps the best part is that this is my own apartment. I am 35 years old and am not ready to live in a nursing home and I do not want to drain my parents' energy and funds. Moving here is the perfect fit for me. I am really appreciative of the part that makes living here so unique-all the helpful staff of Bellwoods. Being in a wheelchair has been difficult enough to deal with, but the help of the Bellwoods staff makes it much less isolating," explained Evi with a big smile.
In addition to Bellwoods staff, Evi identified her support system to include her parents, older sister, friends and case worker from Community Head Injury Resource Services (CHIRS).
Bellwoods' Sudbury Community Project is focused on ensuring that clients are able to live safely in an accessible home environment. Clients in Sudbury, such as Evi have their needs meet through 24/7 access to physical and personal care services including personal grooming and hygiene, assistance with eating and toileting, provided on a prescheduled basis with access to ad-hoc support. Bellwoods' Program Facilitators (Trained in Occupation Therapy) and Independent Living Educators to assist clients with program support.
Prior to receiving her diagnosis, Evi reported that she was attending the University of Toronto, working on a Major in Linguistics and Philosophy and a Minor in French. She reported she enjoys travelling around the world. Currently, Evi is working on a certificate in Creative Writing offered through the University of Toronto. During the day she enjoys writing, reading, listening to music, and playing a variety of instruments including guitar, accordion, harmonica, zither, and baglama.
For her educational and professional future, Evi identified goals of completing her Creative Writing certificate and pursuing a writing career. In regards to her goals for independence, she is working towards one day "cooking on the stove from scratch, and being able to transfer by myself." With hard work and the supports available to her, Evi will strive to achieve these goals successfully.
Feature Story - Independant Living
Attendant Outreach Services (AOS):
Successful Transitions Lead to Independence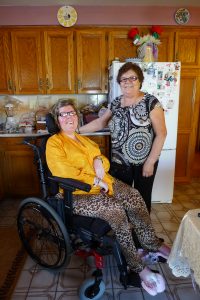 Sandra and Paula Almeida are identical twins who were born with cerebral palsy, diagnosed at three months old. They have received personal support services from Bellwoods' Attendant Outreach Services (AOS) since 1996. Bellwoods worked with the Ministry of Community and Social Services "Special Services at Home" program to transition Sandra and Paula onto AOS through Bellwoods. The "Special Services at Home" is funded by the provincial government, and assists families who care for children with development and/or physical disabilities. At first, Sandra and Paula's parents, Rosa and Domingos Almeida were nervous about this transition for their daughters. It was all new to the Almeidas, and the thought of leaving something that was familiar to them was initially quite overwhelming. They worried about working with new staff and wondered how everything was going to work out. With dedicated teamwork, trust and education, the transition was successful. Rosa reports, "I feel the transition was smooth, the staff were great, and Sandra and Paula received the personal support services they needed."
Bellwoods' AOS provides pre-booked personal support services for individuals with physical disabilities living in the community. These services can be provided in the client's home, place of employment, and/or school where the client is pursuing a degree, certificate or diploma. AOS provides services to individuals 16 years of age and older, living in their own homes, who have a permanent physical disability and who require assistance with their activities of daily living. These services are available throughout the Toronto area between 6 am and 12 midnight, on a pre-scheduled visitation basis. Our AOS are client-directed, and assist clients to carry out their activities of daily living as outlined in an individual support service agreement and individualized service plan.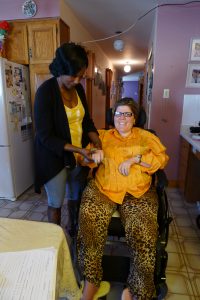 Rosa and Domingos Almeida have devoted themselves to the care of their twin daughters. They renovated the family home to be accessible and to accommodate Sandra and Paula's physical needs. For example, there is a wheelchair lift at the front entrance of their home, which allows the twins to enter and leave the house. The design of their house ensures that Sandra and Paula can navigate around their home safely and comfortably, and includes a wheel-in-shower, grab bars and an overhead lift.
As Sandra and Paula require assistance with all of their activities of daily living, their daily support requires a team approach. In addition to Bellwoods' daily visits, the Toronto Central Community Care Access Centre (TC CCAC) also provides daily personal support services. Bellwoods' Personal Support Workers (PSWs) work with the TC CCAC PSWs, to support the Almeida's to ensure that the twins' needs are met. In addition to providing assistance to Sandra and Paula in the morning, Bellwoods' staff are there when they return home from their day program at the Luso Canadian Charitable Society (LCCS), to assist them off the Wheeltrans bus, and to provide personal support services and assistance with feeding. The twins have been part of the LCCS since it opened in 2003, and were recently elected Honorary Presidents of the LCCS in 2014. According to Rosa, Sandra and Paula are grateful to Bellwoods' staff for their daily interactions and assistance, compassion and sharing of stories. Rosa states, "Sandra and Paula appreciate the staff for their gentleness and caring, and for taking a genuine interest in their lives." The sisters have a great sense of humour, and enjoy laughter and good conversation.
It has always been important to Sandra and Paula to live at home with their parents. Although Rosa and Domingoes are aging, they remain fiercely committed to maintaining their daughters' independence. Rosa reported that she would never consider placing her daughters in institutional care, despite their physical and developmental challenges. Rosa has mentioned that it is the family's goal for the twins "to remain at home for their entire lives so they can live as independent as possible," and believes "this wouldn't be possible without the assistance of Bellwoods' Attendant Outreach Services." The Bellwoods team has worked alongside the Almeida's, and have provided quality personal support services to Sandra and Paula. As Rosa reports, "the support and assistance provided by Bellwoods has been invaluable to our family."