Support Bellwoods Today
Now you can give the gift of Independent Living with a donation to Bellwoods. Your gift will benefit our efforts to support Independent Living and improve the quality of life of those we serve.
Donate Now
Sign Up for Our Newsletter
Keep in touch with Bellwoods! Stay informed and sign-up to recieve our latest information.
Bellwoods: Innovating Independence
Established over 60 years ago, Bellwoods is a charitable, not-for-profit organization providing community-based, client-directed support services, independent living education programs, and accessible, affordable housing. Services are provided to adults (16+) with physical support needs, seniors, and individuals with mental health and addiction challenges as well as those at risk of homelessness. Bellwoods has been accredited by Accreditation Canada since 2007 and in 2013 and 2018 received the highest accreditation: "Accredited with Exemplary Standing."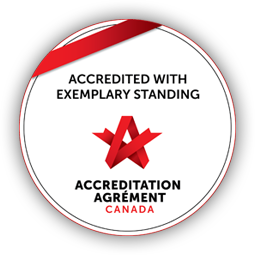 Bellwoods provides personal support services to people living in the community and at its supportive housing sites. It also offers a range of Transition Programs that include education and care navigation as well as a reintegration unit and an in-home respite program to support clients ready to leave hospital following an illness or a debilitating injury. Through partnership development, Bellwoods focuses on meeting the needs of clients and responds to community needs and health system priorities. Our voluntary Board of Directors represents the communities we serve.
The Impact Bellwoods Makes
"I am very grateful for the assistance and support that Bellwoods has provided to me along my journey and throughout my transitions. Despite the challenges, I am thankful especially to the MILE Program staff for all of their support, assistance to get my own apartment, and help with my transition to my own home in Mimico so that I can live independently."

Mabrate Melesa Gamachu

Mimico Apartment Project Client

"I have lived at Bellwoods since 1979. During the earlier years I lived at Shaw Street, then I moved to Church Street and in the year 2008, I moved to Dundas. I have seen many positive changes over the years. Bellwoods has grown, and I now have my own apartment and live independently with support from staff when needed. I love my independence which I have been able to maintain while living at Bellwoods, and I have grown fond of the staff whom I have met over the years."

Cyril Higgins

Dundas Project Client

"I came to Bellwoods in the Spring of 2015 because of the increasing health challenges associated with my disabilities. As I came through the doors, I felt welcomed and safe. Because of the staff and residents here at Bellwoods' Dundas, I have grown to feel a sense of freedom and well-being I never felt before."

Cheryl Baker

Dundas Project Client

"I have worked in the Supportive Housing Services for 5 years at Bellwoods and I sincerely enjoy our teamwork at our 1082 Dundas Project – working with my colleagues and the management team. I also enjoy working with clients towards leading an independent life. I appreciate their drive to uphold their independence."

Tesfaye Adem

Dundas Project, Support Service Worker

"I have worked for Bellwoods' Attendant Outreach Services since 2001, and it has been my great pleasure to work here. I take part in the Health and Safety Committee and know first-hand how committed Bellwoods is to safety – both staff and client safety. I am proud to be part of Bellwoods, and look forward to being here for many more years to come."

Jacintha Phillip

Attendant Outreach Services (AOS)Support Service Worker