Innovating Independence
Established over 60 years ago, Bellwoods is a charitable, not-for-profit organization providing community-based, client-directed support services for the physically disabled, client and family-centred care, independent living education programs, and accessible, affordable housing in the Toronto Central LHIN. Services are provided to individuals 16 years of age or older with physical support needs, seniors, as well as those at risk of homelessness. Bellwoods has been accredited by Accreditation Canada since 2007 and in 2013 and 2018, received the highest accreditation decision of "Accredited with Exemplary Standing."
Bellwoods focuses on meeting community needs through partnership development to support health system priorities. Our personal support and Independent Living (IL) education services are provided to individuals 16 years of age or older with physical support needs. Today, the clients we serve include a growing number of seniors and those at risk of homelessness. Many of our services are provided to clients who reside at one of our eight housing sites. We also offer attendant outreach services and a range of short-term transition programs that include a hospital to community reintegration program, health education and care navigation that support people who are ready to leave hospital following an illness or a debilitating injury.
Our work of Bellwoods is guided by the following vision, mission and value statements:
What We Believe In
Our Vision
We envision a future where barriers do not exist.
Our Mission
Transforming lives through excellence and innovation in Independent Living.
Our Values
Client & family centred services
Delivering high quality programs
Building collaborations & partnerships
Performance excellence
Ensuring staff are valued, engaged & supported
---
Our Partners Include:
Service Partners
Toronto Central Local Health Integration Network (TC LHIN) Home & Community Care
Hospitals – acute, post-acute, rehabilitation, complex continuing care
Community Support Services Partners
Housing Partners
City of Toronto
Ontario Ministry of Health
Canada Mortgage and Housing Corporation (CMHC)
St. Clare's Multifaith Housing Society
Mahogany Management
Funding for Bellwoods is provided by the: Toronto Central Local Health Integration Network (TC LHIN), Ontario Ministry of Health, City of Toronto, and Canada Mortgage and Housing Corporation (CMHC).
---
Accreditation: Accredited with Exemplary Standing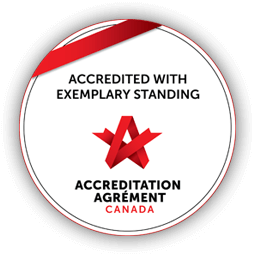 Bellwoods was proud to receive Accreditation Canada's highest designation in 2018: accredited with Exemplary Standing. This four-year designation is awarded to organizations that meet or exceed all Quality Standards and Required Organizational Practices (ROP) for Safety. Bellwoods met every Standard and ROP in each of the Quality Dimensions.
To learn more about Accreditation Canada